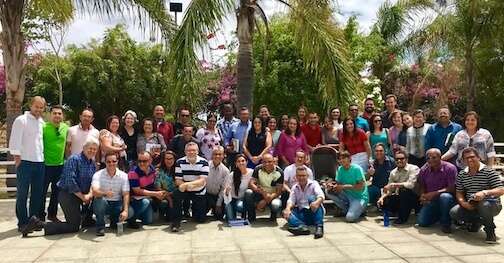 Brazil Fermata Group
Words from the Woodwards
June, 2021
"What then shall we say to these things? If God is for us, who can be against us? He who did not spare His own Son, but delivered Him up for us all, how shall He not with Him also freely give us all things?" (Rom. 8:31,32)
Dear ministry partners,
Thank you for your fellowship and sponsorship. I am rejoicing in the way God is blessing the counseling ministry. This week alone there were several testimonies of victory. (One is mentioned in the ministry letter for this month.) Another case is that of a woman in Arizona who has been very conflicted for months. As my co-counselor and I met with her these last five weeks, she has been willing to embrace the Christ centered counseling message and process. Coming from a medical background, it was hard for her to let go of relying on medicine and psychotherapy. In her fifth session she spent most of the time giving a testimony of thanks and praise to God! She has been better than she has been in months since she fully relinquished control to God and took a leap of faith to depend on Christ as her source of Life. As the Holy Spirit does this heart-oriented ministry, the presenting problems such as insomnia, depression, anxiety begin to dissipate as He meets one's ultimate needs by His saving Life (Rom. 5:10).
On May 30th I concluded the sermon series on "Growing in Grace in Difficult Days." The recordings are at facebook.com/FirstBaptistPigeonForge/live.
There was a retreat last week in Pigeon Forge for the state's Southern Baptist Directors of Missions. I was given the OK to give them samples of our literature. May God bless those potential connections.
I appreciate mentoring Steve Ranz (www.MenUnderConstruction.me) and Aaron Kim (www.Living Hope Ministry.net). Most of our out-of-town referrals come from Aaron's YouTube channel. His main testimony has 64,000 visits. Let's pray for the many who are benefitting from his online testimony and teaching.
Our Monday night online Deeper Life Discipleship group has been blessed through studying New Testament Living, by Norman Harrison. The videos recordings are available at vimeo.com/channels/1621148
June 7-August 16 I will be facilitating the Lifeline to Hope Caregiving Course. (See GFI site's calendar of Events.) And we expect to resume our Deeper Life studies after Labor Day.
Family matters: Linda has been busy doing the new employee training at the Dollywood theme park. It's a challenge for her and her team member, Amy, but also a wonderful opportunity to let God's joy shine through to thousands. I recently took a weekend trip to Georgia and had a good visit with my parents and sister. (My stepmother, Gerry, is now in full time dementia care...). And last weekend we got another opportunity to hold our granddaughter, Lilah. 🙂
Thank you again for your prayers and financial support. May our hearts overflow with thanksgiving to God for His abundant grace.
Yours in Christ,
John and Linda
Mailbox
We were reflecting on our conversations with you. John, you are an example of kindness. When I think of how you bless others and offer encouragement, this verse comes to mind, "Cast your bread upon the waters, For you will find it after many days" (Eccl. 11:1).  We have prayed for you and Linda, asking the Father to supply all your need according to His riches in glory by Christ Jesus…
Sunday I had an unexpected opportunity to give a lesson to an adult S.S. class of retired folks. This is the same group I spoke to several weeks ago. In that first lesson, I gave them an overview of the Wheel Diagram, with an emphasis on Colossians 1:27. Yesterday, I have gave them an overview of the Line Diagram with an Emphasis on Colossians 3:1-4.  "...Every opportunity is valuable…" 
-'for the cause of Christ'
(Tennessee)
Words from the Woodwards
May, 2021
"[I pray that you] may be able to comprehend with all the saints what is the width and length and depth and height— to know the love of Christ which passes knowledge; that you may be filled with all the fullness of God." Ephesians 3:18
Dear ministry partners,
I trust you are well and sustained by God's grace. C. A Coates observed,
"There are three steps in appreciation of His love for us. First, I learn that He loves me so much that He saved me. He is our treasure 'My Beloved is mine' (S.S. 6:3). The second step of affection is the consciousness that He loves me so much that He has a right to me. He would have me for Himself. 'I am my Beloved's' (S.S. 6:3). The third step is the consciousness that He loves me so much that He wants my company 'His desire is toward me' (S.S. 7:10). Love's delight is found in the company of its object. May we know in a deeper way, and in a fuller measure, the sweetness of personal intimacy with 'the Son of God, who loved me and gave Himself for me' (Gal. 2:20)." Amen!
Here are some updates to supplement May's donor letter. I recently attended a seminar presented by Infusion Ministries. The Director is Dave Park (co-author of Neil Anderson's youth edition books). Like Freedom in Christ Ministries, they emphasize identity, grace, and freedom in Christ. As an alternative to the "7 Steps to Freedom," they have developed a freedom process based on the Lord's Prayer. Infusion has a set of the seminar videos free online: www.infusionnow.org
Our home church, First Baptist Church of Pigeon Forge, is currently without a senior pastor. I've been asked to do some pulpit ministry, so I am currently preaching messages on "Growing in Grace in Difficult Days" based on 1, 2 Peter. The video recordings are at ForgeChurch.tv - Facebook page. Last Sunday's theme was knowing Christ as our Life, and it was a joy to teach the message of our union with Christ and our new identity in Him!
Our Monday night Internet Deeper Life Discipleship group is studying New Testament Living, by Norman Harrison. We are being blessed by this classic devotional book which is available on amazon.com. The video recordings of these Bible studies are posted at vimeo.com/channels/1621148
It's a joy to facilitate an online Spirituotherapy Workshop. The students use a web page for reading and videos during the week, and then we meet on Sunday afternoons on zoom for a training session. This workshop wraps up on May 16th. Each of these students will hopefully continue on through the certification process.
Thank you so much for your faithful prayers and support. May God's love encourage you daily.
Yours in God's grace,

John and Linda
Mailbox
Hi John,
I just had to tell someone how excited I am getting while reading Handbook to Happiness. The chapter "When Life is Like a Wilderness" is really opening my eyes! I find that I get so overcome (in a really good way) that I have to read it slowly and repeatedly in order to fully digest its truth. What an incredible journey I have found myself on! I am just thanking God for bringing this transforming message to Rob Semco and how he responded by bringing you to us in Rhode Island. God is up to something GREAT! I want everyone to know this!!!! Thank you for your faithful service to our Lord Jesus. I also am enjoying the devotional you sent us - great reflections as I sip my morning tea. Your sister in Christ, K.
______________________
Words from the Woodwards
April, 2021
"You are our epistle written in our hearts, known and read by all men; clearly you are an epistle of Christ, ministered by us, written not with ink but by the Spirit of the living God, not on tablets of stone but on tablets of flesh, that is, of the heart." 2 Cor. 3:2,3
Dear support team,
When I first read Handbook to Happiness in about 1985, the chapter on testimonies made me do a double-take. How could there be such transformational change in people's lives? As years have gone by, the answer has become so obvious: it is the work of the Holy Spirit using the message of the Christ-centered life! The True Vine bears fruit through abiding "branches" for the glory of God.
The Rhode Island ministry weekend (March 26-28) was one of the most encouraging ever. About 33 attended the Abiding Life seminar. The host, Rob Semco, shared his exchanged life testimony (which was the major influence—along with prayer— that drew attendance to this event). A pastor's wife who attended called the office with a radiant testimony. She also wrote: "Thank you so much for these resources! …So important to be equipped to help hurting people. I am having such a great time reflecting on the seminar and putting it all together as I read Handbook to Happiness and my Bible. I did pray on Good Friday, surrendering myself to God. It is my turning point. I am committed to the Exchanged Life! It is becoming clearer to me and I am walking it out in faith! So glad you came to R.I. and no telling what God has in store." Amen!
I am facilitating our second Online Workshop. Only three are attending, but they could not get this training otherwise. They are using a special web page for videos and reading during the week and we meet on zoom (internet video) on Sunday afternoons.
God continues to send counseling and training inquiries to us weekly. Thank you for praying for counselees and trainees. God is still transforming lives. The needs and opportunities are greater than ever.
Thank you so much for being a vital part of my intercession and support team. May each of us continue to grow as "living epistles"—witnesses to the saving Life of Christ.
Yours in God's grace,

John and Linda
Counselee Correspondence

From a pastor's wife in Cameroon, Africa:
"Hello sir, greetings. I'm in so much tears of joy today. I finally came to an understanding of many things you explained to me on the day we spoke together [on WhatsApp telephone]. I chose to suffer so much for nothing, and abandoned the course. The day you prayed for me, I had a dream, and saw you and a long line of other ministers praying for me. You asked me to enroll in some Bible classes immediately [www.GraceStudyHall.org] and ensure to complete my course.
It's now that I understand it. Thank you, sir, for the reminders you've been sending to me. The day you sent me those Scriptures I was so convinced about assurance of my salvation. It was the part of surrender that I didn't get, and since then I have suffered a lot. It's a wonder I'm still alive. My situation just kept getting worse, and I was just getting into all kinds of self-destructive negativity. It's today that God has made many things clear to me. I listened to Aaron Kim's [YouTube] video again and forced myself to go on a lifeline for Christ. And today, after receiving more bad news from the hospital, I finally decided to worship rather than complain. And in the mist of that, all was made clear. I'm beginning my journey to freedom today. 'Just want to say thank you."
---
Words from the Woodwards
February, 2021
"Behold what manner of love the Father has bestowed on us, that we should be called children of God! Therefore the world does not know us, because it did not know Him. Beloved, now we are children of God; and it has not yet been revealed what we shall be, but we know that when He is revealed, we shall be like Him, for we shall see Him as He is. And everyone who has this hope in Him purifies himself, just as He is pure." 1 John 3:1-4
Dear support team,
Thank you for your partnership in ministry. In addition to the general ministry letter, I'll add a few more personal comments.
February 6-7 Linda and I enjoyed the visit with our son, Brad, his wife Krystle and our two-month-old granddaughter, Lila. What a joy to hold her in our arms and give thanks. On page 2 is a photo of my father-in-law. Roy was deeply touched that, as an 87-year-old man, he could hold his great granddaughter in his arms. Linda continues to be busy with part-time work at Dollywood, orienting new employees and co-leading leadership development sessions.
I presented a Walk Thru the Old Testament seminar during the last week of January. About a dozen attended; each appreciated this unique way of getting the big picture of the Old Testament. (The workbook and video recordings are available.)
A couple of weeks ago, a new telephone counselee from Texas said that she had searched Google for "Jesus heals mental illness." She found our associate Aaron Kim's videos, and then contacted us. In her first session she was very receptive, but it became apparent that she only had a nominal Christian background and needed to understand the gospel. It was explained to her and she prayed to receive Jesus as her personal Savior. Hallelujah!
On the evening of February 9th I am to be a guest speaker for ULead—a live online Christian leadership course with about 20 enrolled. It's a privilege to have these kind of opportunities.
Although this ministry has a heavy workload, it is such a privilege to be able to serve full-time in a way that lines up with my passion, convictions, training, gifting, and opportunities. Linda and I have been blessed with good health as we take reasonable precautions and pray for wisdom. (Also a friend gives us a free supply of an effective anti-malaria medication which has some convincing research about its effectiveness to fight Covid as well.)
Our Monday night "Deeper Life Discipleship Study" is delving into Lee Turner's book Discover Your Riches in Christ. What a blessing. The recordings of these meetings are at our GFI website under Counseling Institute /Online Video Meetings.
Thank you again for your friendship, fellowship, and support. May the peace and joy of the Lord be your strength.
Yours in Christ,
John and Linda
Words from the Woodwards
January 2021
"God is our refuge and strength,
A very present help in trouble.
Therefore we will not fear,
Even though the earth be removed,
And though the mountains be carried into the midst of the sea...
Be still, and know that I am God;
I will be exalted among the nations,
I will be exalted in the earth!
The Lord of hosts is with us;
The God of Jacob is our refuge. Selah" Psalm 46:1,2,10,11
Dear prayer partner,
I trust you had a joyful Christmas and encouraging new year celebration.  2021 is off to a quick start here at GFI.  Yesterday, I had three phone counseling sessions, and this morning an in-person session with a new counselee. Thankfully, she prayed to receive Jesus Christ as her personal Savior in the first interview! Please continue to intercede for those whom God leads here for personal ministry. He knows them all by name and is ready to give transformational change as they open their hearts to His presence, grace and truth.
You will observe in the statistical report that the Lord is opening the door for many ministry opportunities. I appreciate your prayer for grace, health, strength, wisdom, and perseverance.
On Monday nights at 7 PM we have started a new series on Discover Your Riches in Christ. The meeting invitation and video recordings are at the GFI site under Online Video Meetings. The last week of January I present a four evening series on Walk Thru the Old Testament. 
You may recall that Linda was laid off from Dollywood last fall. Thankfully, she has been rehired and re-joined the H.R. team on January 11th! We are thankful that she has this opportunity to work part time and let her light shine there.
Thank you very much for your prayers and faithful financial support. God bless you as you take Him as your refuge and strength in these troubles times.
Yours in Christ,
John and Linda
Our best "Christmas gift" was the safe arrival of our granddaughter, Lilah June Woodward, born to Brad and Krystle on December 16th in Nashville!
Letter
"Thank you, Dr John, for the weekly encouragement, comfort and blessing you bring every week to so many Christians [through Grace Notes]. I have learned and have grown in ways I cannot describe through the teaching you give in the online courses [www.GraceStudyHall.org].   
I would like to do the Counselor Certification in 2021. May you and your family enjoy a blessed and peaceful 2021 as you continue to teach and preach the message of God's amazing Grace."
D. P.  - South Africa
---
Please click below to download or preview our newsletter.