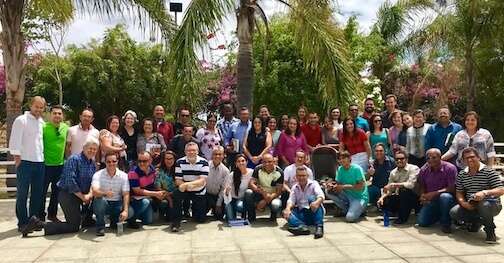 Brazil Fermata Group
---
Words from the Woodwards
February 2020
"Behold what manner of love the Father has bestowed on us, that we should be called children of God! Therefore the world does not know us, because it did not know Him. Beloved, now we are children of God; and it has not yet been revealed what we shall be, but we know that when He is revealed, we shall be like Him, for we shall see Him as He is. And everyone who has this hope in Him purifies himself, just as He is pure"
(1 John 3:1-3)
Dear support team,
Thank you for your partnership in ministry. The Good Shepherd continues to send us hurting people for in-person and telephone counseling. Last week I had five new clients (including two teenagers and a 20 year old). It's such a privilege to offer them, not only care, but cure through Christ-centered personal ministry. A lady from out of state has been struggling with anxiety and panic disorder for 25 years. After a breakthrough she wrote, "I can't stop crying ... tears of joy because of what the Lord has been doing in my life through your ministry! I'm soooo thankful!" In some cases (like the one just mentioned) I invite a trainee to join in the session(s) as a co-counselor.
And ministry events are an exiting opportunity as well. I give thanks for the seminar I presented in Miami on January 25th. New Testament Baptist Church there has two campuses; they arranged for a half day seminar at one campus in the morning and the same content at the other campus in the evening! Then I had the privilege of preaching at both campuses on Sunday morning. The teaching was well received and we pray all of us will appropriate and share the Rest of the Gospel. The next seminar is scheduled for Pisgah Forest, N.C. on February 21,22. Then we have our Exchanged Life Conference and Spirituotherapy Workshop in Pigeon Forge (March 6,7; 9-12). Please pray for God to send people who would benefit from these events and use the GFI team to be vessels of the saving Life of Christ.
May you be encouraged in God's love for you and your dignified, secure identity in the Lord Jesus. Thanks again for your prayers and support.
Yours in Christ,
John and Linda
P.S. Last month our friend, chaplain Joey Buck, invited us to participate in a service at the DreamMore Resort in Pigeon Forge to dedicate and place new copies of Gideon Bibles in the rooms. May God bless this outreach. (And check out the Gideon's Bible app that features the printed and audio Bible in many languages!)
---
Words from the Woodwards
January 2020
Dear support team,
My Old Testament History bookmark is in Isaiah these days. Chapters 40 and following are sometimes called The Book of Comfort as it begins "'Comfort, yes, comfort My people!' Says your God. Speak comfort to Jerusalem, and cry out to her, That her warfare is ended, That her iniquity is pardoned..." One of my professors in seminary wrote a book on this section that he titled The Gospel of Isaiah (by Alan McRae). One reason for this section being Good News is the four "Servant Songs" that include the matchless chapter 53:
"But He was wounded for our transgressions,
He was bruised for our iniquities;
The chastisement for our peace was upon Him,
And by His stripes we are healed.
All we like sheep have gone astray;
We have turned, every one, to his own way;
And the Lord has laid on Him the iniquity of us all." (Isa. 53:5,6)
As we counsel hurting people locally and by phone, it is a privilege to offer them comfort and more dimensions of the good news of our Lord Jesus Christ. Please pray for two who prayed to receive Christ as Savior in recent sessions: Mr. B (TN) and Mrs. E (CT). Many are viewing our friend, Aaron Kim's, YouTube video testimonies and contacting us for help in appropriating Christ as Life. Many struggle with chronic fear and panic attacks...
I'd appreciate prayer for God's blessing on the GFI seminar I'm to conduct at New Testament Baptist Church in Miami, Florida on January 25; then I'm to preach at their two campuses on Sunday morning. Another seminar and sermon weekend is planned for Pisgah Forest Baptist Church in North Carolina, February 21-23.
Thank you so much for your prayers and financial support. I'm amazed at God's gracious faithfulness. We pray that you will have a healthy, safe, and fruitful new year!
Yours in Christ,
John and Linda
Mailbox:
"...Thank you again for the training and partnership over the past few years. As I have been on pastoral staff for almost a year now in Texas, I have been able to explore more counseling opportunities.  For about 3 weeks now I have been meeting with a couple and yesterday I was able to have a specific time and quality time to walk one individual through the wheel diagram.  The best part was that right towards the end, before I had the chance to walk them through the line diagram, the individual paused and asked, 'Is it possible to have this new life; how can I have this life?'  I was then able to guide this individual in praying to receive Christ.  The best part was being able to share the news with their spouse and seeing their reaction as they now have Christ as their life and at the center of their marriage moving forward with more discipleship counseling."
Texas
"Thank you for being a servant delivering the freeing message of the Gospel. May you continue to shine His light into other peoples' lives that He places before you!"
Ohio
"Thank you for being a faithful brother. You are impacting my life tremendously...."
-Tennessee
Grace Fellowship International
P .O. Box 368 Pigeon Forge, TN. 37868
Phone: 865-429-0450   CANADA N2H 1C6
Cell: 865-740-7847 Phone: 519 742 1900
www.gracefellowshipinternational.com/donate
Crossways to Life,
79 Weber St. E., Kitchener, ON. Canada
www.CrossWaystoLife.org
---
Words from the Woodwards
December, 2019
"In the beginning was the Word, and the Word was with God, and the Word was God. He was in the beginning with God. All things were made through Him, and without Him nothing was made that was made…. And the Word became flesh and dwelt among us, and we beheld His glory, the glory as of the only begotten of the Father, full of grace and truth." John 1:1-3,14
Dear support team,
Thank you so much for your partnership in ministry. The December GFI donor letter will cover recent ministry activities and year-in review. We count our blessings (See GraceFellowshipInternational.com/blog).
Allow me to tell you a bit of my lovely wife's ministry at Dollywood. For about eight years Linda has worked in Human Resources and has really found her niche in conducting the new employee orientation. Because the park's management company is led by Christians (the Herschend Corporation), the Dollywood new hire seminar presents Christian values. And the corporate culture there gives her freedom to "let her light shine." She has some opportunities--with local employees, college students and internationals--to share a word of testimony and make Jesus film DVDs available. Recently she was asked to accompany our friend, Joey Buck (DW chaplain), to visit an employee who barely survived a knife attack by a drug-crazed former boyfriend. This month we will help Joey conduct another "Blue Christmas" service to comfort those who find the holidays difficult due to the loss of a loved one. So, although these monthly letters usually highlight my activities with GFI, we also welcome your prayers for Linda's influential ministry at this popular theme park.
On December 15th (9:15-10:15AM) I'm scheduled to present an Introduction to the Exchanged Life seminar at Anchor Church in Grayson, Georgia. The pastor there intends to host the full seminar in 2020.
It's been another fruitful year; praise the Lord. I'm so grateful to have this opportunity on the front lines with GFI. Thank you for your prayers and financial support. May God bless you this Christmas season and beyond.
Yours in Christ,
John and Linda
---
Words from the Woodwards
November, 2019
"I am the true vine, and My Father is the vinedresser...Abide in Me, and I in you. As the branch cannot bear fruit of itself, unless it abides in the vine, neither can you, unless you abide in Me. I am the vine, you are the branches. He who abides in Me, and I in him, bears much fruit; for without Me you can do nothing... By this My Father is glorified, that you bear much fruit; so you will be My disciples." John 15:1,4,5,8
Dear support team,
In October, I attended the World Conference of the American Association of Christian Counselors in Nashville. There was lots of instruction and inspiration but I didn't hear any teaching on the message of Galatians 2:20 and its vital implications for personal ministry. But I was able to have good networking conversations, pass out tracts and some sample books, and get consideration to submit an article for their newsletter for the track of Biblical Counseling & Spiritual Formation (where I subscribe).
The Lord blessed the recent GFI Exchanged Life Conference (with 21 attending) and Spirituotherapy Workshop (with 6 attending).
Pastor Umar Mulinde is publishing our three minute conversations from IAMtv on his YouTube.com channel. The four mini programs address key issues related to sharing the Gospel with Muslims.
I just attended the Global Missions Conference at First Baptist Church of Powell. We had a GFI exhibit; I testified and taught a Life Group and had good networking conversations with the other missionaries who participated.
Thank you so much for your prayers and financial support. May you be encouraged to deepen your roots in the Abiding Life, trusting the Spirit of God to produce fruit through you for others' good and God's glory.
Yours in Christ,
John and Linda
Please click below to download or preview our newsletter.