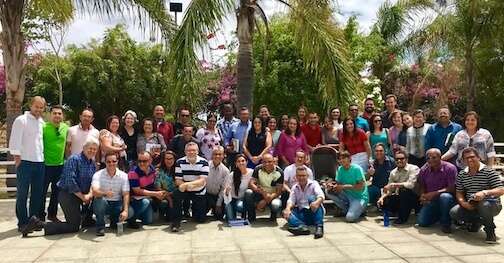 Brazil Fermata Group
---
Words from the Woodwards
July 2020
"[May your] hearts be encouraged, being knit together in love, and attaining to all riches of the full assurance of understanding, to the knowledge of the mystery of God, both of the Father and of Christ, in whom are hidden all the treasures of wisdom and knowledge." Colossians 2:2,3
Dear ministry partner,
I pray the above quotation will be fulfilled in our lives. In these difficult days of COVID 19, social turmoil and political conflicts we need encouragement, unity, love, and wisdom. Thankfully, all the resources we need are available to us through Christ's victorious indwelling (Col. 1:27)!
I rejoice in the way God is working in the lives of counselees in-person at GFI and by phone or zoom internet video meeting.
I'm thankful for our first live online conference. The Christ is Life Conference was presented over eight evenings in June and was recorded for further use. Next, I'm to present a Walk Thru the New Testament series at 7:00pm (Eastern), July 15-18. It's usually a live event at a church, but this will be taught on zoom. This seminar is primarily for the college students that come to the area for summer ministry, but registration is open to everyone. These sessions will also be recorded on video for later viewing.
We'd appreciate prayer for the Exchanged Life Conference and Spirituotherapy Workshop scheduled for August 7-13 here in Pigeon Forge. May God grant wisdom, safety and fruitful training.
I have audio recorded six of the ten chapters of Lee Turner's Discover Your Riches in Christ. We hope to publish this book in audio and paperback editions next month.
Our family celebrates some birthdays in this season: our son, Brad (June 26), Stephen & Jared (July 2), and Linda (July 9). I'm thankful for each member of our family and God's shepherding care over the years.
Thank you so much for your prayers and financial support. We conclude 19 years of full time ministry at Grace Fellowship this month. We are amazed at God's faithfulness. God bless, protect and encourage you in His grace.
Yours in Christ,
John and Linda
Mailbox
Hi John,
I just finished reading Lifetime Guarantee by Bill Gillham... I know that you read it but I want to point out something that will help me tremendously in my walk going forward. It was the part about the two roads. We are confronted in life with a decision to turn left or right at a fork in the road. At the fork of salvation, he was approached by one camp who told him that he must earn his salvation (law) and one camp that told him that his salvation was provided through grace. He chose the grace path. Then he encountered his baptism experience. He was told by one group that baptism was needed for salvation and the other group was a public testimony, and that baptism was a picture of God's grace. He chose the grace path. He next was confronted with the fork in the road regarding security. One group told him that he must hold tightly to Jesus lest he would lose Him. The other group said that Jesus would never desert him. This path conformed more to the grace paradigm, so he chose eternal security. The same thing for sanctification. One group told him to stop smoking, stop lusting, stop this and that, read your Bible more, pray more, give more. The other group talked about appropriating his identity in Christ and from "this posture, I can begin to lay aside my old ways and adopt my new ways."
It took quite a few lessons from you at the workshop, our discussion at Cracker Barrel, the grace conductor's pattern, Monday evenings, and now the latest webinar. I now choose to follow the path of grace. I firmly realize that I am simply to appropriate my identity in Christ and the exchanged life through faith (provided by grace), believe it wholeheartedly, and act as though it is true (the pattern laid out in his book, with phenomenal, practical examples provided). "Making your behavior match your identity," as he says ... laying aside what feelings suggest to me. He presented an illustration that stood out to me. How could Jesus sweat as if drops of blood (his emotions), yet have the peace that passes all understanding? The peace that He had was knowing something, It was a function of the mind, not the emotions. It's not about feeling peaceful. Quite remarkable. My brother, I thank God that our paths crossed. The teachings of appropriating our identity in Christ and the exchanged life are the most significant teachings I have been presented with in 25 years as a believer. I realize now that at each of Bill's forks in the road, I tend towards the works path initially, even though the grace path is more consistent with my understanding of the Bible. The same thing happened at the "sanctification" crossroads for me. Now I understand the truth. This is all provided by grace and appropriated through simple faith, believing it to be true, and acting as though it were true, since it is! "Rain on feelings," as Bill writes. Simple truths 🙂 Hallelujah!
R.S.
Grace Fellowship International
P .O. Box 368 Pigeon Forge, TN. 37868
Phone: 865-429-0450   CANADA N2H 1C6
Cell: 865-740-7847 Phone: 519 742 1900
www.gracefellowshipinternational.com/donate
Crossways to Life,
79 Weber St. E., Kitchener, ON. Canada
www.CrossWaystoLife.org
---
Words from the Woodwards
June 2020
"These things I have spoken to you, that in Me you may have peace. In the world you will have tribulation; but be of good cheer, I have overcome the world." John 16:33
Dear ministry partners,
We have gone from the tribulation of COVID-19 and its ripple effects to racial strife and urban riots. But when we abide in Christ, we can navigate these trials as "salt and light" through God's enablement.
I continue to counsel by telephone and zoom, and on June 1st resumed office appointments. This year I have been more intentional about recruiting some trainees to co-counsel with me. This adds to the fellowship, wisdom and prayer support for the counselee and also provides mentoring experience for the trainee. Most of our referrals are coming from those who have found Aaron Kim's YouTube.com videos. We rejoice in the thousands who are being helped through his online testimony!
The Monday night online Bible study concludes June 8th. Our group has been blessed through The Law of Liberty in the Spiritual Life, by Evan Hopkins. Videos of the sessions and my PowerPoint are on the 'Recorded Webinars' page at the main GFI web site under 'Counseling Institute'.
On Thursday and Friday nights this month I am presenting our Christ is Life Conference online through the zoom platform. The sessions are being recorded for viewing or review afterward. (See GFI web site's Calendar of Events.)
Last month I mentioned that Linda's mother went to be with the Lord. We had a memorial service for her that was video recorded. The service can be viewed at www.GraceNotebook.com/jcs
In this photo, Linda and I model the Good Shepherd masks that were made and sent to us... Thank you for your prayers and support. Be of good cheer through God's grace.
Yours in Christ,
John and Linda
Mailbox
Thank you John.  So many times I think, where were I be today had I not been blessed to hear Dr Solomon when I did.  God knows all the details of the years since, but in some very emotional painful ordeals, I am so grateful that the Lord was carrying me and teaching me.  Had it not been for the Holy Spirit and the Lord's guidance, I could have wound up in the pit of bitterness and resentment and just might even not be here today. That is why I can say, no matter what comes, God's Presence and Power and Grace overcomes!!... John, may God continue to send rich blessings into your life as you teach and minister grace to others. May His Life manifest and radiate so brightly that others cannot miss His powerful Presence on your life and IN your life.
- Virginia
Comments from the Online Workshop attendees: It was awesome. I am sure our ministry will be better equipped through this partnership.
-Illinois
[Breakout sessions] were wonderful. An opportunity to practice, fellowship, and mutually sharpen each other. As Holy Spirit would lead, my partner was used to show me some things that were still strongholds in my life. I pray God will open doors for me to share what I have learned with others who are struggling in their Christian walk, to share and spread the "whole" gospel. It's not just about heaven 🙂 My heart is to counsel...
-New Jersey
Monday night zoom Discipleship study: Thanks for the great study tonight on watchfulness  Funny how this is one of Jesus' direct commands to the church, yet is so often forgotten.  I have found this first reading of Hopkins [The Law of Liberty in the Spiritual Life] on this to be so encouraging for the long haul process.  I suppose that is because the more I learn about letting Christ live through me the more I realize it is not a haul at all, but a rest.  The Lord has been helping me lots in the last few weeks.  I see new freedom in my issues... and am getting more people lined up for counseling.
-Trainee
Re Grace Note/IOM e-blast: Hi John! As usual, in all your messages, you, with the guidance of the Holy Spirit, have brought clarity to Gods' wonderful Word! There's, as you know, nothing better and more satisfying than putting it right on the line! ... [Since] I surrendered to Christ I've never looked back! Praise God! Please extend my love to Linda & the family!
-Quebec
---
Words from the Woodwards
May 2020
"Be strong through the grace that God gives you in Christ Jesus. You have heard me teach things that have been confirmed by many reliable witnesses. Now teach these truths to other trustworthy people who will be able to pass them on to others." 2 Tim. 2:1,2 NLT
Dear prayer partners,
One of the special advantages of using GFI's Christ Centered Discipleship model and materials is that they are very conducive to equipping the saints for ministry (Eph. 4:12). There are not enough pastors, chaplains and counselors to help all those who need freedom from life's burdens and blockages. We are eager to equip lay caregivers "for such a time as this."
It is a joy to have mentee, Aaron Kim, join me in facilitating our Monday night online Bible studies. (His testimony and discipling videos are now at www.LivingHopeMinistry.net). And we are joined by two other brothers who have attended the GFI Conference and Workshop--Ray Kruse and Dan Hawkins. They each take part in the meetings.
A counselee who has gone public with her freedom testimony is Emma. She just celebrated 100 days of sobriety after the Lord delivered her from the devastating effects of meth addiction. She has not only flourished in counseling, she is also in the process of completing the GFI Recovery Coach certification track in record time. Please intercede for her continued victory, healing, equipping and envisioned ministry to help others.
And congratulations to Sheriena who just completed her certification. (See section 2)
We also have appreciated the prayer support and sympathy of many of you who heard that Linda's mom went to be with the Lord on April 23rd. June had been on hospice care since last year...I'm so grateful for her being a wonderful mother in law for 41 years.
And we are grateful for each of you who have a vital part of this counseling and training ministry through intercession and giving. May the Lord bless, protect and encourage you daily.
Linda with her parents, brother and sister in 2015
Yours in Christ,
John and Linda
---
My Certification Process Experience
By Sheriena McEvers
My certification process began after I reread Handbook to Happiness. I say reread because I had read it in the mid-1980s. At that time, it made no noticeable change in my life. Although I had been a born-again believer since the age of 9, as an adult I struggled to live in victory.
It took another 15 years before I came to the end of myself and gave up. Finding myself in a corner with no options, I quit trying to be a Christian. I felt like I was committing spiritual suicide.
However, while I had given up on myself, God had not given up on me. It was after I gave up that God was able to live through me and begin the transformation process. Joy began to bubble up inside as I learned that it was all Him. It was not me trying to be better. I had given up on self-effort and wasn't about to go down that road again.
After several years, I began a blog to share what God was teaching me. In the spring of 2015, I remembered the book Handbook to Happiness and purchased a copy to read again. At that time, the message resonated with my spirit, but I needed help in sharing it so I called Grace Fellowship and spoke with John Woodward who encouraged me to begin the certification process.
After marinating for a year in the message as I read through the reading list, I began to consider flying to Tennessee to attend the workshop. That was a big step. I wanted to attend, but I was very unsure about going by myself. In August 2016, after much prayer, hesitation, and discussion with my husband, I made the trip to Tennessee for the workshop. I was greatly blessed by the experience and learned through lectures and hands-on practice how to share the exchanged life principles.
It took me another three and a half years to finish the certification process. John Woodward was very helpful and always encouraged me along the way. Through the practicum sessions, I gained knowledge from his wisdom and experience...
Sharing the Exchanged Life experience brings me great joy. I love showing through Scriptures the life we are meant to live as children of God, free of flesh and focused on Jesus, the author and finisher of our faith. On my blog, Lighted Path, I share wisdom from the Bible to light our everyday lives. It can be found at www.sherienamcevers.com .
---
Words from the Woodwards
April 2020
"Therefore I remind you to stir up the gift of God which is in you... For God has not given us a spirit of fear, but of power and of love and of a sound mind." 2 Timothy 1:6,7
Dear prayer partners,
I trust this letter finds you safe...safe in the arms of Jesus. We are doing pretty well here. Isn't it strange to be away from in-person church services for so long? Especially Palm Sunday and Resurrection Sunday. But we are all getting more acclimated to online worship and fellowship. And some are being reached that would not ordinarily attend church.
Although we are not seeing counselees at the office, the counseling, training, and coaching is as busy as ever. Most counselees have unmanageable fear and anxiety as their presenting problem. But we consider this symptom as an opportunity to reorient them to the journey from the Wilderness into the Promised Land through identification with Jesus Christ.
We are getting a lot of use out of our zoom internet video account. On March 30th we launched a live Deeper Life Bible Study. It continues on Monday nights at 7:00PM EDT; everyone is welcome. The recorded meetings are at the GFI web site under "Counseling Institute."
Last month I mentioned the Spirituotherapy Workshop that had been scheduled for April 16-18 in New Jersey. Thanks to the leadership team there and the Lord's guidance, we anticipate our first online-based Workshop. Some of the video teaching will be on a web page for registrants, and the live teaching and practice sessions are scheduled on zoom for Sunday afternoons, 1:00-4:30. The Workshop will be spread over five weeks, April 19 - May 17. Prayers are appreciated for the participants and my presentations.
Although charitable giving tends to go down during this kind of crisis, the need for counseling increases! Thank you for being a vessel of God's provision. May you daily abide in Christ as our Source of power, love and a sound mind.
Yours in Christ,
John and Linda
---
Please pray for the Wonderful Counselor's continued renewal in the life of businessman E.:
"My life has been materially impacted by the spiritual guidance I received from John Woodward.  I was suffering from a strong bout of anxiety when I watched a YouTube video of a brother who overcame depression and anxiety through Jesus via counseling from John [www.LivingHopeMinistry.net.] So on a whim, I emailed GFI, not expecting a response.  Not only did I get a response, but John became my spiritual adviser.  During this period, he directed me to Scriptures and books that helped me 1) understand how/why I got into this predicament 2) open my eyes to God's unwavering love, grace, and mercy, and 3) deepen my faith and trust in God.  Relying on God and not yourself is not an easy, and still isn't.  But John has been there to help guide me on this journey, and I'm happy to report that my anxiety has been significantly  reduced."
-California
What a privilege to share the Gospel of Identification in the context of people helping!
"I just want to thank Grace Fellowship International for all their help. John has helped me in such a tremendous way. There's no way I can express my appreciation."
-Missouri
---
Words from the Woodwards
March 2020
"In God is my salvation and my glory;
The rock of my strength,
And my refuge, is in God.
Trust in Him at all times, you people;
Pour out your heart before Him;
God is a refuge for us. Selah." Psalm 62:7,8
It's hard to grasp that, since last month's update, the caronavirus pandemic has affected us globally, locally and personally. But the above quotation reminds us of our source of security in these tumultuous times.
Thank you for your prayers for us and this ministry. The North Carolina Seminar scheduled for Feb. 21,22 was postponed due to a forecasted snowfall. When the weather cleared up, I was invited to join them to preach on Sunday morning instead. We'll claim Roman 8:28...(that God causes all things to work together for good for those who love Him). And we'll need that confidence as we anticipate that this seminar (rescheduled for March 27,28) will probably be postponed again. Speaking of scheduling events, Bayside Chapel in Barnegat, New Jersey has arranged for a Spirituotherapy Workshop and invited me to facilitate it there April 16-18. That group would probably be about 20... so we'll seek the Lord's guidance on the status of that event as well.
Our local Conference and Workshop was held March 6,7; 9-12 and wrapped up just as the drastic measures about meetings and travel were starting to take effect. Thankfully, God blessed these important ministry events with about 20 attending each. The Director of the Fermata ministry in Brazil (that I have participated in over the years) attended this training week. This gave Luciano Pauls additional insights and equipping to minister to pastoral couples in South America. He has a vision to have a special one week training in July for selected pastoral couples go deeper in the message of the Exchanged Life and become regional mentors for Fermata alumni.
This pandemic requires believers to abide in Christ and be testimonies of confidence, courage, wisdom and compassion. May each of us find refuge in the Lord. Thank you so much for your prayers and support!
Yours in Christ,
John and Linda
---
Brother John,
Re: Grace Note: "Living Above Your Circumstances"
Please join me in praise to our Father, Lord and King who just used your Grace Note, specifically, the professor's question to his student to bring me out from under the pile of circumstances that I've been under! For months a sullen silence, an unknown foreboding gray, a heaviness that seemed to threaten
my oxygen supply has been Luciano & John
growing deep within my soul through a variety of circumstances. As soon as I finished the second paragraph - His glory filled me and joy, perspective, and grace found me sitting at His right hand - looking down at my circumstances.
Thank you so much,
-Oregon
This past Sunday (February 23) we had the wonderful privilege to host Dr. John Woodward at Pisgah Forest Baptist Church in Brevard, North Carolina.  John's message on the "Believers Identity" was right on.  Many people commented on the doctrinal soundness of his message as well as the way he explained it with clarity.  Having heard John on other occasions, my wife and I knew what a blessing awaited our congregation as he opened and expounded God's Word.  I never tire of hearing a presentation of Romans 6 and Galatians 2.  Thank you again, Dr. Woodward, for shining the light of the Gospel.  We are looking forward to the next time our Lord allows you to come to Pisgah Forest Baptist Church.
-Dr. David Spray, Pastor
Photos of January-March ministry events are at http://gfiworld.shutterfly.com/pictures
---
Words from the Woodwards
February 2020
"Behold what manner of love the Father has bestowed on us, that we should be called children of God! Therefore the world does not know us, because it did not know Him. Beloved, now we are children of God; and it has not yet been revealed what we shall be, but we know that when He is revealed, we shall be like Him, for we shall see Him as He is. And everyone who has this hope in Him purifies himself, just as He is pure"
(1 John 3:1-3)
Dear support team,
Thank you for your partnership in ministry. The Good Shepherd continues to send us hurting people for in-person and telephone counseling. Last week I had five new clients (including two teenagers and a 20 year old). It's such a privilege to offer them, not only care, but cure through Christ-centered personal ministry. A lady from out of state has been struggling with anxiety and panic disorder for 25 years. After a breakthrough she wrote, "I can't stop crying ... tears of joy because of what the Lord has been doing in my life through your ministry! I'm soooo thankful!" In some cases (like the one just mentioned) I invite a trainee to join in the session(s) as a co-counselor.
And ministry events are an exiting opportunity as well. I give thanks for the seminar I presented in Miami on January 25th. New Testament Baptist Church there has two campuses; they arranged for a half day seminar at one campus in the morning and the same content at the other campus in the evening! Then I had the privilege of preaching at both campuses on Sunday morning. The teaching was well received and we pray all of us will appropriate and share the Rest of the Gospel. The next seminar is scheduled for Pisgah Forest, N.C. on February 21,22. Then we have our Exchanged Life Conference and Spirituotherapy Workshop in Pigeon Forge (March 6,7; 9-12). Please pray for God to send people who would benefit from these events and use the GFI team to be vessels of the saving Life of Christ.
May you be encouraged in God's love for you and your dignified, secure identity in the Lord Jesus. Thanks again for your prayers and support.
Yours in Christ,
John and Linda
P.S. Last month our friend, chaplain Joey Buck, invited us to participate in a service at the DreamMore Resort in Pigeon Forge to dedicate and place new copies of Gideon Bibles in the rooms. May God bless this outreach. (And check out the Gideon's Bible app that features the printed and audio Bible in many languages!)
---
Words from the Woodwards
January 2020
Dear support team,
My Old Testament History bookmark is in Isaiah these days. Chapters 40 and following are sometimes called The Book of Comfort as it begins "'Comfort, yes, comfort My people!' Says your God. Speak comfort to Jerusalem, and cry out to her, That her warfare is ended, That her iniquity is pardoned..." One of my professors in seminary wrote a book on this section that he titled The Gospel of Isaiah (by Alan McRae). One reason for this section being Good News is the four "Servant Songs" that include the matchless chapter 53:
"But He was wounded for our transgressions,
He was bruised for our iniquities;
The chastisement for our peace was upon Him,
And by His stripes we are healed.
All we like sheep have gone astray;
We have turned, every one, to his own way;
And the Lord has laid on Him the iniquity of us all." (Isa. 53:5,6)
As we counsel hurting people locally and by phone, it is a privilege to offer them comfort and more dimensions of the good news of our Lord Jesus Christ. Please pray for two who prayed to receive Christ as Savior in recent sessions: Mr. B (TN) and Mrs. E (CT). Many are viewing our friend, Aaron Kim's, YouTube video testimonies and contacting us for help in appropriating Christ as Life. Many struggle with chronic fear and panic attacks...
I'd appreciate prayer for God's blessing on the GFI seminar I'm to conduct at New Testament Baptist Church in Miami, Florida on January 25; then I'm to preach at their two campuses on Sunday morning. Another seminar and sermon weekend is planned for Pisgah Forest Baptist Church in North Carolina, February 21-23.
Thank you so much for your prayers and financial support. I'm amazed at God's gracious faithfulness. We pray that you will have a healthy, safe, and fruitful new year!
Yours in Christ,
John and Linda
Mailbox:
"...Thank you again for the training and partnership over the past few years. As I have been on pastoral staff for almost a year now in Texas, I have been able to explore more counseling opportunities.  For about 3 weeks now I have been meeting with a couple and yesterday I was able to have a specific time and quality time to walk one individual through the wheel diagram.  The best part was that right towards the end, before I had the chance to walk them through the line diagram, the individual paused and asked, 'Is it possible to have this new life; how can I have this life?'  I was then able to guide this individual in praying to receive Christ.  The best part was being able to share the news with their spouse and seeing their reaction as they now have Christ as their life and at the center of their marriage moving forward with more discipleship counseling."
Texas
"Thank you for being a servant delivering the freeing message of the Gospel. May you continue to shine His light into other peoples' lives that He places before you!"
Ohio
"Thank you for being a faithful brother. You are impacting my life tremendously...."
-Tennessee
---
Please click below to download or preview our newsletter.