We have been comparing the process of discipling another person to a disciple's framed portrait. The countenance of the portrait's subject symbolizes the Spirit of Christ–the One who empowers and directs the spiritual life. And the sides of the "frame" represent four a basic elements involved in making disciples.
Side 1. "Discipleship requires TEACHING."
Side 2. "Discipleship requires LOVING RELATIONSHIPS"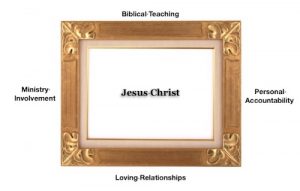 Now consider,
Side 3. Disciple making requires MINISTRY INVOLVEMENT.
The Lord Jesus involved the disciples in His public ministry when He sent the twelve on a tour of evangelism and healing (Luke 9:1-10). They also helped in practical matters like distributing food during the feeding the five thousand. Later He sent them out again: "… The Lord appointed seventy others also, and sent them two by two before His face into every city and place where He Himself was about to go'" (Luke 10:1).
Christ stated that His mission was to "seek and to save the lost." When He first called Peter He gave him a preview of discipleship: "Follow Me, and I will make you fishers of men" (Matt. 4:19). And after His resurrection Christ conferred His mission on the apostles whom He had trained: "So Jesus said to them again, 'Peace to you! As the Father has sent Me, I also send you'" (John 20:21). So the disciples were servants, not spectators!
Veteran church planter and and missiologist George Patterson, explains the role of accountability and ministry involvement in his obedience-oriented leadership training strategy. It has been very fruitful in Central America.
"Both extension and resident theological institutions must verify each student's progress in his practical activities. A checklist or register of his progress should depict each activity that he must do to raise up a church, edify its members and deal with the problems that every pastor faces. This register is not simply a list of pastoral skills; it is a guide for helping a congregation to grow. Our aim is to edify a church. The register or checklist presents a projected history of a church as it grows from infancy to maturity. It mentions congregational activities–duties of parents, deacons, Bible teachers, services for special occasions, congregational visitation, missionary projects, and community development."[1]
I can't help but notice how this training strategy differs from the traditional, academic, institutionalized way most of us pastors seek to prepare for church leadership.
It is fitting for pastors to be equipping all God's people for strategic ministry (Eph. 4:12), since they are "a chosen generation, a royal priesthood, a holy nation, God's own special people, that they may proclaim the praises of Him who called them out of darkness into His marvelous light" (1 Peter 2:9). This leads us to the last "side" of the portrait's frame.
Side 4. Discipleship requires ACCOUNTABILITY.
Much of our Christian education centers only on teaching. Without loving relationships this teaching would be out of context because it neglects the demonstration of loving one's neighbor — in this case, the students!
When the apostles reported back to Jesus after their preaching tour, He was able to correct their priorities:
"Then the seventy returned with joy, saying, 'Lord, even the demons are subject to us in Your name.' And He said to them, 'I saw Satan fall like lightning from heaven. Behold, I give you the authority to trample on serpents and scorpions, and over all the power of the enemy, and nothing shall by any means hurt you. Nevertheless do not rejoice in this, that the spirits are subject to you, but rather rejoice because your names are written in heaven" (Luke 10:17-20).
The role of accountability is usually lacking in organized ministries. Perhaps the teacher feels that it would be asking too much of the students; students get uneasy with the thought that they may be called upon to testify of how they have–or have not–applied God's Word.
In his book, The Disciple Making Pastor, Bill Hull highlights the need for personal accountability:
"What student learns without exams? What work would get done without deadlines? What teen would clean room without his parents threatening life and limb? Why does behavior change when the teacher leaves the room, the coach the field, the parent the house? The answer is simple: It's the nature of human nature … Report forms, report cards, authority figures and systems are essential to good human performance … Those who refuse spiritual authority when they need it but don't want it are doomed to spiritual mediocrity." [2]
It is wise to negotiate the specifics of accountability. If the disciple agrees to certain tasks — like Bible memory or visiting shut-ins — he/she should welcome the added incentive that reporting brings. As biblical goals are agreed upon, the value of the friendship and teaching aspects of discipleship are multiplied.
Our ultimate accountability as believers anticipates Christ return: "For we must all appear before the judgment seat of Christ …" (2 Cor. 5:10). (This Judgment seat does not determine one's destiny, but the degree of reward, or lack of reward.) If we desire to maximize our opportunities in this life, why not welcome negotiated spiritual accountability?
Christ's Great Commission is not just to teach, but "teaching them to obey all That I have commanded you."
The salvation of the lost is the first step — not the only step — in the process of discipleship. After spiritual birth should come spiritual growth (see 1 Peter 2:2).
Now let's apply these principles. What examples of discipling most naturally include all four elements? For starters, consider these two methods.
A. One-to one discipling
Lately known as "mentoring," one-to-one discipling should provide a loving relationship as the bridge to the learning process. The personal nature of this friendship allows for accountability that is relevant without being intimidating. This process should include practical Bible lessons that emphasize God's grace and truth in Christ. If the disciple is equipped to reproduce this process with another believer, ministry involvement is included.
Paul modeled this role with Timothy: "And the things that you have heard from me among many witnesses, commit these to faithful men who will be able to teach others also" (2 Tim. 2:2).
B. Small groups
Since the Lord Jesus discipled the apostles as a team of twelve, we are ill-advised to overlook the value of a small group for effective disciple making. As the leader abides in Christ and the participants express Christ's love, the Bible study builds up the members. As they demonstrate God's will to each other and reach out with the gospel, the group functions as a ministry team. With such expressions of Christ's life dispersed throughout the community, unbelievers would catch a glimpse of God's love in action.[3]
Dear reader, if you know Christ, how are you involved in making disciples? For example, if you are raising children in "the nurture and admonition of the Lord," are you discipling them? (Eph. 6:4). If so, how do teaching, love, ministry involvement, and accountability factor in?
If you are involved in one to one mentoring and/or a small group, wonderful! Are you including the four "sides" of the discipleship portrait? Is Christ's grace and indwelling presence empowering and motivating your ministry?
May God multiply our joy as we see those that we disciple walking in the truth.
---
Notes
[1] George Patterson, Obedience-Oriented Education. He also mentioned, "The teacher of the practical work class shares the responsibility for the effective weekly ministry of his student. If his student fails, he fails; if his student succeeds, he succeeds. The proof of effective teaching is in the spontaneous growth and development of the student's congregation. The student's progress is measured primarily by the results of those activities for which the church has made him responsible." I thank one of my mentors, Rick Polson, for introducing me to discipleship as teaching/loving relationship/ministry and introducing the church planting approach of George Patterson. This book is available online at https://gracenotebook.com/obedience-oriented-education-part-1/.
[2] Bill Hull, The Disciple Making Pastor (Fleming H. Revell). p. 116. Hull also observed, "Obedience to the Great Commission hinges on three qualifiers: an intentional plan that defines and trains disciples, a commitment to reproduction by training in evangelism with ACCOUNTABILITY, and a commitment to multiplication by special training in order to produce disciple-making leaders.." p. 54.
[3] If you're looking for tools to use with these discipleship strategies, I recommend Dynamic Churches Int'l http://www.DynamicChurches.org Their Dynamic Life Handbook is designed for Christ-centered one-to-one reproductive discipleship. They also have workbooks to train cell group leaders and apprentices.
Here at Grace Fellowship, we publish several grace discipleship kits. See an introductory video here:
http://gracefellowshipinternational.com/shop/small-group-curriculum/
Other discipleship equipping ministries:
www.disciple-maker.org
http://livingthedlife.com
Copyright, 2002 by John Woodward. Permission is granted to reprint this article if credit is given to the author and GraceNotebook.com. Scripture quotations are from The Holy Bible, New King James Version (copyright by Thomas Nelson).
---
Honorable Mention
See also www.ChurchDynamics.org Their four lesson Follow Up and One-to One Discipling are very user-friendly. For small group training, Al Broom wrote the Care Circles manual. See http://multimin.org/